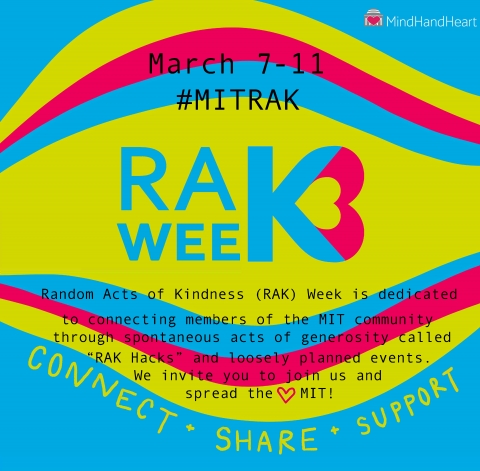 MIT's annual Random Acts of Kindness (RAK) Week is scheduled for March 7-11, 2022. 
At MindHandHeart, we define kindness as being caring, respectful, inclusive, supportive, considerate, and doing good things for others.
RAK Week is an opportunity for our entire campus community to come together through spontaneous acts of generosity (called "RAK Hacks") and loosely planned events. It is a chance to intentionally practice kindness during the week and inspire kindness all year round. We invite you to join us and Spread the Heart MIT!
Ways to Participate in RAK Week
Write an encouraging note to a friend or colleague.
Hand out flowers.
Create your own "RAK Hacks."
Connect with support resources on campus.
Attend RAK Week events.
Follow the RAK Week action on MindHandHeart's Facebook page and at #MITRAK.
Participate remotely via the accompanying RAK Week Website launching on the 7th!
Check out our full list of tips for celebrating RAK Week as an individual or a department, lab, or center.  Plus covid safe ideas.
Visit Lobby 10 all week long to meet the MHH Office and learn about the office's resources! From the 7th to the 11th you can also visit our RAK Week page online at: mitrakweek.com 
Download the RAK Week poster.

Events during RAK Week:

Everyday - giveaways in Lobby 10 between 11am - 1pm

Tuesday, March 8th
Lunch Break Concert with Tim Hall sponsored by Open Space Programming, details here: https://www.openspace.mit.edu/upcoming/lunch-break-livestream-concert-with-tim-hall

Wednesday, March 9th
Gratitude Postcards sponsored by DAS and S3 from 11am - 2pm in 5-104.  Come write a postcard to be delivered to your instructors, TAs and staff who have been helpful to you.  Students can also pick up a Kind bar, one for yourself and one to give to a friend.

Let's Chat, drop-in outreach service providing brief informal, confidential consultations with clinicians.  Sponsored by MIT Medical and the Office of Minority Education.  Details found here: https://medical.mit.edu/services/mental-health-counseling/lets-chat 

Friday, March 11th
Free Group Exercise Classes, all day offered at MIT Recreation in Z-Center and Wang.  Register through their MIT Recreation account or mobile application: https://mit.clubautomation.com/. Check out class offerings here:  https://www.mitrecsports.com/work-out/virtual-group-exercise/

Heritage meets Heritage, for heritage language speakers.  Details maybe found here:  https://mindhandheart.mit.edu/news/heritage-meets-heritage
Random Acts of Kindness (RAK) Week 2022