But I'm Not Racist! Understanding White Privilege and What We As White People Can Do about It
RSVP: bit.ly/wpag-action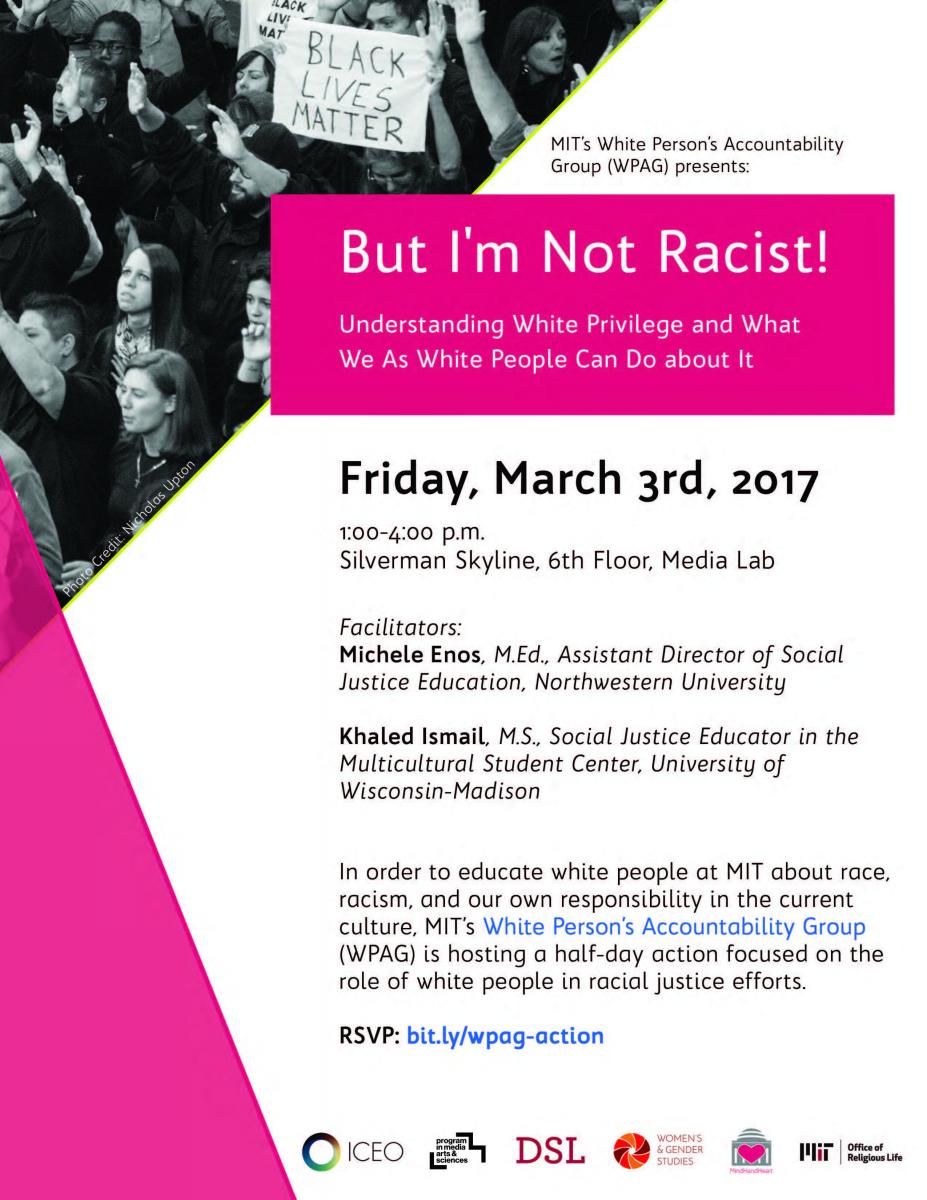 In order to educate ourselves and other white people at MIT about race, racism, and our own responsibility in our current culture, the White Person's Accountability Group (WPAG) is hosting a half-day "action" at MIT on Friday, March 3rd, 2017 in the Media Lab. The spring semester will see a wide variety of events tackling issues of social justice on campus and beyond; this event is to equip and encourage white people to find their voice in these conversations, rooted in deep listening and collaboration with colleagues and friends of color. We see this action as part of the ongoing work of making the world more just by taking responsibility for our privilege and the ways it supports systems of oppression today.
The goals of this action are to
Learn about and engage with lived experiences of people of color on MIT's campus and our role as whites in these issues.
Meet people where they are by providing a judgment-free but challenging educational space.
Equip participants with the skills, tools, and practice to engage with their own identities.
Provide participants with a menu of options of what to do after the action.

Starting their own WPAG group
Books to read
Policy interventions to advocate for
This event is open to the MIT community, but is intended for white people to grapple with these issues. It will be co-led by Michele Enos, M.Ed. (She/Her/Hers), Assistant Director of Social Justice Education at Northwestern University and Khaled Ismail, M.S. (He/Him/His), Social Justice Educator in the Multicultural Student Center at the University of Wisconsin-Madison.
This event is made possible by the support of the following partner offices and organizations: MindHandHeart, Division of Student Life, Institute Community & Equity Office, Women's and Gender Studies, Office of Religious Life, and the Program in Media Arts & Sciences