Julia Mongo: Prehealth Advising, CAPD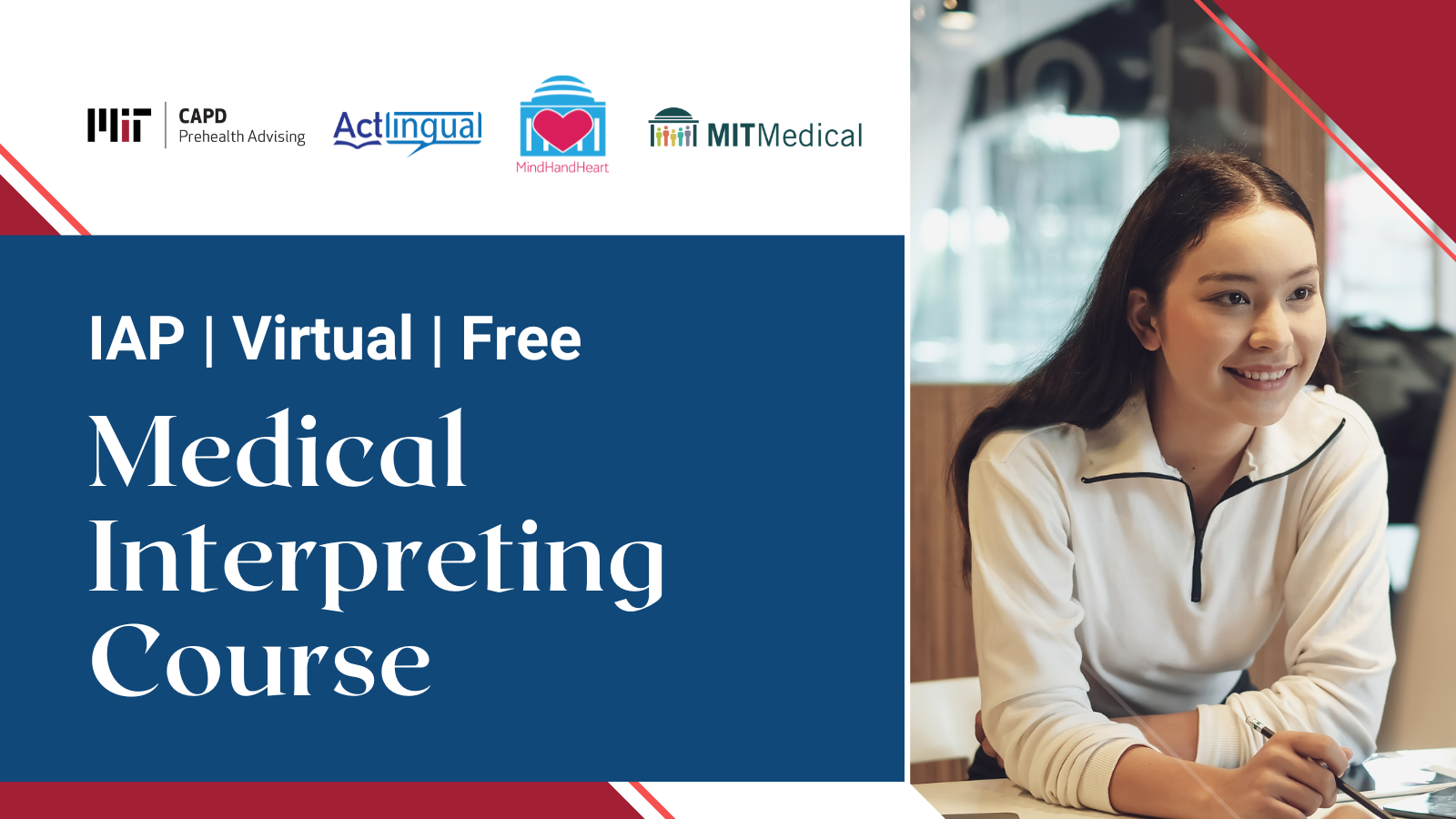 Medical Interpreter Training
You're in the hospital with a serious condition. The doctor is asking you questions. The nurse is explaining your discharge instructions. The problem? You don't understand or speak English. Or at least not well enough to grasp the complex information being discussed. And not only is there a linguistic gap between you and your medical team, but there is also a cultural barrier that's preventing you from getting the quality of care you need and deserve.
This scenario is common in hospitals and healthcare centers across Massachusetts and the US. It is also a familiar reality for many in the MIT community who grew up helping immigrant family members navigate the intimidating world of American healthcare and medical culture.
In Massachusetts, patients with Limited English Proficiency (LEP) are entitled by law to have a trained medical interpreter in any emergency room or healthcare facility. A medical interpreter functions as a conduit, clarifier, cultural broker, and patient advocate. They act as the voice of the patient and the voice of the provider so that both parties can understand each other despite language differences. Medical interpreters are essential for reducing medical errors and mitigating healthcare disparities.
Being a medical interpreter requires more than being able to speak English and another language. Interpreters must enroll in a credentialed minimum 40-hour training course that teaches them standards of practice, code of ethics, and medical terminology. If they successfully complete the course, they are qualified to work or volunteer in healthcare settings and are eligible to pursue national certification in their target language.
For several years, MIT students have reached out to the Prehealth Advising team in Career Advising & Professional Development (CAPD) to request a medical interpreter training course. Many of them are prehealth students planning to become doctors and are members of ActLingual, a student organization that enables multilingual speakers to apply their skills to help people in healthcare and other community settings.
Thanks to the generosity of the MindHandHeart's Innovation Fund, CAPD's Prehealth Advising in partnership with ActLingual was able to offer this past IAP a medical interpreting course free of charge to members of the MIT community. (These courses typically cost around $900.) The course attracted an overwhelming number of applicants for limited spots. Ultimately, 30 participants were selected, including undergraduates, graduate students, alumni, and staff. In addition to MindHandHeart, additional funding was contributed by MIT Medical, the MIT Community Service Fund, and the MIT Coop.
Throughout the month of January, course participants committed to a rigorous schedule of four nights each week of Zoom lectures plus language coaching in Spanish, Mandarin Chinese, or Korean biomedical systems and terms. The class was facilitated and taught by Lisa Morris, the Director of Cross-Cultural Initiatives at UMass Chan Medical School.
Course participants reported a positive and rewarding learning experience. According to the evaluation survey, 100% stated they would recommend the course to others, and 100% plan to either work or volunteer as medical interpreters.  As one respondent commented, "I really appreciated the cultural sensitivity with which everything was handled. I felt like it gave me a perspective on healthcare that I otherwise normally wouldn't see."
Graduate student Timothy Loh says, "I appreciated the chance to take this IAP class on medical interpreting, intensive as it was—it packed so much material into 40 hours of class! I feel fortunate that I can use my language skills to do some good in the world as a volunteer interpreter, and this class equipped me with domain-specific vocabulary and basic medical knowledge that I am sure will come in useful in the future."
Jada Li, a sophomore ActLingual member and aspiring physician, agrees. "After completing the course, I feel better equipped to pursue volunteering opportunities as a medical interpreter. I plan to take the national certification exam in the near future. As a physician, I will likely interact with medical interpreters on a daily basis, so learning about the position of the medical interpreter is critical for a successful triadic encounter (between the physician, interpreter, and patient). Medical interpreters help improve cultural competency and bridge the language gap, which ultimately leads to better health outcomes for patients."
Stanley Chen, a junior who serves on the ActLingual Medical Interpreting Committee, took last year's pilot course and went on to pursue national certification in Mandarin with the support and guidance of the course instructors. He says, "I was amazed at the breadth of content covered during the course in the span of a month, and also the strong emphasis on ethics and professional interpreter roles.  The IAP course not only allowed me to foster my budding interest in interpreting through the intensive coursework regarding the different body systems and their functions, but it also provided me the opportunity to use my language skills as a first-generation student in a professional manner."
Chen sees a sense of purpose in what he has learned. He says, "In the future, I'm hoping to pursue a career in medicine. Learning about medical interpreting and practicing it in the future will allow me to better serve patients and healthcare providers, particularly for immigrants and other communities who may face challenges in accessing and navigating the healthcare system."
For information on future IAP medical interpreting courses, contact Julia Mongo in CAPD Prehealth Advising (jmongo@mit.edu) and ActLingual (actlingual-exec@mit.edu).
Click here for information about the Chancellor's Innovation Fund.